Everybody knows i'm currently working in SS2, PJ. Who ever lives in klang valley yet dunno WHERE THE HACK IS THIS PLACE..i really dunno wat to say.

There's certain part of the area are all semi-D's, well, i dun think there's any bungalow there, maybe there is, just i dun think they're big enough keke...

This certain part is mostly located just right beside the busy main road. Think, who would wanna live right beside the busy road??? 24/7 of dusts n noise..even late at night, when the wolves howls, u still can hear motor engines....

besides that, Right beside buzy main road, means, its all "one way" street, or road. One way..hhmmm means hard to get in and out of the house. And, right beside the main road, means, in any of time, somebody's car might have ram over your gate and ruin your beautiful house....

To sell off these houses is not easy so the owner decided to rent it out as a shoplot or offices. And most of them are rented n became bridal house.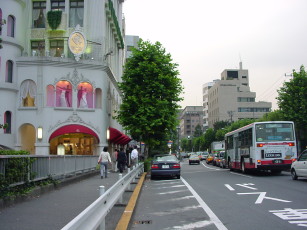 This is one of the example in Japan
Most of the time i'll pass by these areas n without fail, i'll just admire at the dresses. Its just sooo beautiful...well, but i haven imagine myself wearing it but..i do wonder if there have my size, since its all for rent, not for sale.
One saturday when mum n dad came to pick me up after work, on the way to lunch i guess, the old junk passed by the "shops", n mum saw one, she love it. Suddenly she said this
mum: sigh, i wonder if i can see peng peng wear the gowns??
me: *shock wah! mi, why u so sudden wan???
dad: she?? hahaha... i pity that fella la...
me:*show face..wat tat fella??
dad: whoever la..that wants to marry you!
me:*sweat! wat the hell...
mum: wont wan.. ngor ge lui mou kom char keh....
me: hehe..di, see?? what kind of father are u??? hrph
dad: cheh, u wan then marry lo, i bet after just 3 months the guy will scream n run to lawyer firm hahahha....
me:...
mum: papa, lei mou gam tai sui lei ge lui!! later i guarantteeee after she made the "walk of fame" then u ask her fai dit sang zhai so that u can pou xun earlier!!!
me: ya lo, hrph, that time, everyone can play with my child except u...who ask u... gam lei chai ngor!!! =(
dad: *laugh....
Where in the world can u find this kind of father i ask u??? liddat look down on own daughter wan oh.....cis cis
i dunno why but i always like this kind of dresses
See the pics above??? i like it a lot... i dunno wat is wrong with me but i just prefer knee length skirts or dresses...like ballet costume hehe...even prom, i wore knee length where most of the girls are putting on a long dress, like helping Concord management to wipe floor liddat....
But one thing, since young, i dowan to held my wedding in church, but in somewhere erm...open space, like...golf padang or football padang...nice wan la of course. Like in runaway bride that movie...
Julia Roberts and her wonderful wedding ceremony in Runaway Bride
ya...can u imagine it?? Open fresh air, unlimited space, organised arrangement of seats, the dancing area, the bands and stage, the food n server... no need cram all together in one small spot, and do the makan n ceremony all one shot, save money n time oso..haha...
See???whoever married me is actually a blessing!!! ahahahahhahahahahah..oops!
nvm, its just too far from now, where n wat i am...hehe.....