Finally got time to play violin. Satisfaction. Dad bought a new acoustic guitar for my sister.. and now my brother wants one too
Oh.
Btw
, I FINALLY FOUND
EXPLOSIVE'S
(by Bond) CHORDS!!! Simple notes, but damn fast. I'm gonna try it anyway =)
Rmb
my black ugly right toe? Lester and Bird said my nails most probably would come off by itself so that the clogged blood can come out. It's been one
mth
, my toes are still partially black. But then lately I noticed, the black black parts have faded to a lighter shade and and it started to
"flow out

automatically

by itself"
bit by bit to the white
colour
part (not sure if it's considered as part of nail plate)
I
don't
have
canggih
camera so that's all you can see. It's actually maroon in real life. When I first remove it from my nail, it was soft then
after
1-2
mins
it hardens and the colour turned darker.
Dad has been saying
NEED to buy a GOOD camera
for the past one or two years..
aiya
since my brother dropped the old Canon
Ixus
lah
. But then, till now still no camera! Maybe should persuade him get a
DSLR
wahahhhaahahaaa
!! Then I can walk more ber-gaya-ly and then get some good lenses to show off then then then walk with high high nose when I pass by or walking with CheaHwey hyek hyek hyek
Something even more random. I know, you saw No 8. Chill!! I can explain... Dad said, my phone is old, go get a better phone -.- But I don't think I'll be changing it anytime soon.. damn mafan alh have to explore new phone's functions and etc etc..
List of things I will use till I die:-
(highly

recommended

. You all know

lah

,
boh
standard
punyer
things I wont use wan)


1)

Clinique

3-Steps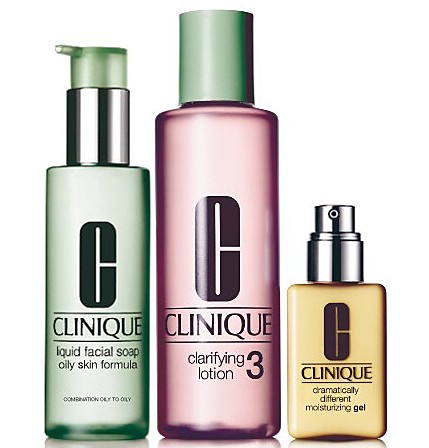 I'm a normal-
combination
skin but I like using Type 3 which is meant for oily-combination. By far this is the most
efficient
basic skin care product I've ever used. And it's only about Rm200 or slightly more for 3 bottles which could last up to 6
mths
, depending on how you use it.
2) B-Liv Pro Serum Gel
30ml @
RM139
RM118. Dad bought it from Sec 17 Caring Pharmacy. It was the very last bottle
summor
!
Honestly I prefer the previous bottle design. Look more elegant and professional. It was previously called
Cellnique
Pro Serum Gel. I read on some forum, that the company decided to repackage the product
cuz
the whitening range was not approved by the Malaysian
MOH
.
It's slightly bigger than the mini
Dettol
Hand Sanitizer. For that kind of price, it is really pricey but quite effective. Today is actually my official 5
th
day using it and it gives unbelievable results already.
By 3rd day, my pores are all closed up.
I have normal-combination skin, but during menstruation my nose will be very oily. Maybe due to this, my nose was fully covered with ugly blackheads and cheeks was tainted with some whiteheads. So to solve this problem, I always scrub my face causing my pores to open up more and more and I didn't want to use pore minimizer fearing that it might cause even more clogged pores and so on.
But this gel, by day 2, white heads had COMPLETELY vanished and pores are visibly smaller than before. Then I stopped using it for 4days. Then continue again.. and now half the blackheads are gone and my face is so much smoother and supple.
So happy!!!
The only thing I
dont
like bout this gel is, one hour after applying it, the part where u applied it will feel a
bit
greasy.
For such a size, it's very expensive. But considering it's high efficiency rate, it's all worth it! Besides, one small pea size is enough to cover my entire nose and both cheeks. =)
3) Watson's Tissue
Mostly
ppl
would buy Premier or Royal Gold. But I tell you what. Buy Watson's tissue!!
It's cheaper. 3 ply
summor
. And it's soft. And absorption rate not bad also!
Be a smart
consumer
!!
4)

Tesco

Toilet Roll
I'll get very irritated if my father buys any other brand.
It Has to be Tesco Choice Tissue. Light Green colour that one.
Reason:
1) More compact
2)Thicker
3) Good absorption
4) a lot cheaper
Teaching you to be a smart
see-lai
5)

Shu

Uemura

DepSea

Moisture Replenishing Essence
*love love love*
Use this after toner and before moisturizer.
Exam period is very stressful so dad got me this (I've been begging him for quite few
mths
edi
). One week's time everything has improved so much. Pimples stop popping out and skin is smoother too.
Note that I use it without moisturizer and toner
cuz
sudah
habis
no time to restock (exam ma!) But maybe due to the Pro Serum Gel also
lah
...
The salesgirl said toner and moisturizer is to maintain only.. but this essence helps to improve imperfections.
Rm 160
RM190 for 30ml. So I only use it at night when I'm turning in.
Now I want to try their
DepSea
Water (facial spray).
Shu
Uemura's
products are very good though it's a little pricey.
6)

Dettol

Hand sanitizer
I'm using the biggest bottle cause I
dont
think the small bottle can last long.
The other day when
Chia
Li saw my bottle of
Dettol
, she was a bit shocked to see the size and asked "why buy
dettol
?
dettol
smelly.. buy the Mickey Mouse wan ma!"
My answer was simple. Because
Dettol
is a
reliable
and trusted brand. And I always apply lotion after using hand sanitizer cause I cant really stand the toilet smell
(yes! it smells like toilet

refreshener

and Angela likes it -.-)
There are so many viruses out there.. must
sanitize
ur
hand wan! But I'm not as extreme as Roberta
lah
haha
7) Mentholatum

Lipbalm
Mentholatum
lipbalms
are the best! I've always like to use
Lipice
(apple flavour) cause I adore the cooling sensation after application.
Dad bought me this
LipPure
-
Bergamot
2
mths
ago when I was preparing for finals and
ngam
ngam
my old
lipice
waved goodbye. This one is so far the most moisturizing one. It's
fragrance
free
colour free, and according to my father, it's made from 100% pure bee wax.
This cost my father RM14.
8) Gatsby facial blotters
My all time favourite.
This one is way better than Clean & Clear. Bigger piece, stronger absorption.Gatsby products are not bad wan
lor
. My brother like their Moving Rubber (hair gel)
Was blue, but now grey. Very cheap. Only Rm5.90 per pack (100 sheets if not mistaken). More worth it than buying Clean & Clear (only 50 sheets - RM7.90)
9) Gatsby facial wipes
You know
lah
I damn particular when it comes to my face. And sometimes I have classes from morning till evening.. by just blotting is not enough.
It's wet tissue, and it has fresh lemony smell. Wipes off
dirt
and impurities effectively and leave skin feeling fresh as if you've just wash your face with soap.
This is a faulty pack. Dad
lah
!! He
don't
know how to open it, then simply simply tear the side apart..
zzz
..
Each pack cost RM 7.90 i think, less than 10 bucks
lah
.. for 15 sheets.
10) Popular

Foolscap

paper
I'm a die hard fan of Popular examination papers.
Reason:
1) Good quality - It's thick enough and it absorbs ink quickly ( I like using gel pen so this is a plus point for me)
2) Cheap!
11)

Sanex

Deodorant Spray
I will never step out of my house without applying deodorant. I'd feel very insecure and dirty.
I had previously pledge my loyalty and allegiance to
Rexona
but 4
mths
back I read a review in a fashion magazine about Sanex and I suddenly had a thought of trying other brand. It wasn't that famous cause unlike Rexona, the company didn't spent much on ads.
It smells way better than
Rexona
seriously. And fast drying and non sticky, dried up only in one minute
(if u spray a lot then maybe a bit longer)
and damn long lasting. Been using for 4
mths
, and still using..
tahan
lasak
lor
! Unlike
Rexona
roll-on, last me only 1-1.5 month.
Some
ppl
worried bout sweaty armpits, I mean, sometimes when the weather is REALLY HOT I will have that too.. but no need worry. Spray
Sanex
, one minute later, put baby powder. Cantik =)
I bought it during promotion period.. around RM12.50
12) Johnson and Johnson baby lotion
I tried many many types and brands of lotion. Still thinks this one suits me best.
I
dont
quite like
Bodyshop's
body butter cause it's a bit too greasy. I don't like
Nivea
because it's greasy too. I
dont
like St Ives cause it's greasy for me also. So basically I think my skin isn't that dry
afterall
.
I like Marks and Spencer's lotion.. feels good, smells great, but the price
lagi
awesome! For one small bottle cost about 20 over bucks!
Ppl
like me, one day bathe few times, and each time I bathe sure must apply lotion wan otherwise I'd feel very sorry for God.
(because I think I should be responsible and take good care of what God has given to me.. so apply lotion is a way of taking care of my body

hahaha

!)
The way and rate I use lotion is like people drinking water, not only one day apply few times.. each time I'd apply few layers especially when I'm going to sleep. And I dont just apply on my hand.. but my neck, back, leg, chest, stomach.. everywhere except face and hair.
When Bird and I first started dating, he said he love the smell. So
everytime
when we're going out, I'll purposely put more..
haha
. But not anymore
lah
cause he no longer said I smell good so I tulan so dowan put any when I'm out with him hmph!
13)

Fiberwig

Mascara (From Japan)
I love fiber haha! (I love 3M's fiber cloth also!!)
The formula is fantastic. It doesn't smudge, can be removed easily (with warm water only), doesn't mess up your lashes and gives you a very natural look. Personally I hate waterproof mascaras because it's such a hassle when comes to removing them.
Right now there's comb applicator mascara
(which means the mascara brush is not a brush but a comb)
and the more ridiculous one - vibrating mascara
(apparently the vibration will help the separate the lashes)
which I don't quite like at all. I still stick back to this thing. What I usually do is, after the gel dries up or half dry, I'll comb the lashes to separate them using brow comb. But this mascara, I can save up the last step cuz it glide on easily and neatly.
I dont have short and straight lashes like many other girls. So I dont curl my lashes before using mascara. Just one step. So good!
14) Davidoff Cool Water Wave EDT For Women
My favourite perfume!
My father ah. Always delay wan loh! He said will buy me one nice perfume wan ma.. till now see nothing! But then.. since he bought me so many nice stuff, nvm lah, buy few mths later.. hehe
I damn
ng seh tak
use (this miniature) lo. heartache ah!